2022 Conference Information
THERMOMETERS & PULSE OXIMETERS
NEW HERC recognizes the fact that Infrared Thermometers and Pulse Oximeters assist organizations with their work against COVID-19.  Based upon regional request, the NEW HERC has a limited supply of both Infrared Thermometers and Pulse Oximeters.  If your organization would like to apply to receive a donation of either please follow the link:
About Us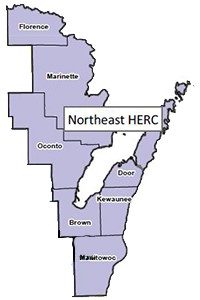 Our region is made up of seven counties Brown, Door, Florence, Kewaunee, Manitowoc, Marinette, Oconto, and two tribes the Oneida Nation and Menominee Indian Tribe of Wisconsin.
NEW HERC's goal is to synchronize public health, tribal health, healthcare organizations, first responder agencies and emergency management in their efforts to enact a uniform and unified response to mass casualty incidents or catastrophic health events; accomplishing this by implementing the medical surge aspect of Emergency Support Function – 8, "Health and Medical Services."  Response is accomplished by implementing a tiered response methodology that will include the availability of a Medical Coordination Center.